Phosphates Processing
With decades of experience in working with phosphates, we can assist you with all of your phosphate processing needs, whether you're working with granular fertilizers, animal feed, or other phosphate products. We have you covered from a single piece of equipment, to a complete process system. We can also assist in process development and material testing, as well as process scale-up and the manufacture of custom processing equipment to produce the results you're looking for.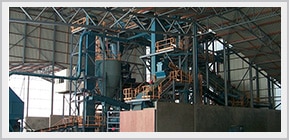 Phosphatic Fertilizer Production
We offer the best in fertilizer production equipment and systems for all of your phosphatic fertilizer needs, whether you're producing Mono-Ammonium Phosphate (MAP), Di-Ammonium Phosphate (DAP), Triple Super Phosphate (TSP), Single Super Phosphate (SSP), NPK blends, or otherwise.
Phosphoric Animal Feed Granulation
Our proprietary approach to animal feed granulation provides an improved product over traditional methods for producing Mono-Calcium Phosphate (MCP), Di-Calcium Phosphate (DCP), and De-Fluorinated Phosphate (DFP).
Download our FREE Phosphates Processing Handbook