STEEP INCLINE CONVEYORS
Steep incline conveyors, also known as sidewall conveyors or pocket belt conveyors, are a great substitute for drag chain or conveyor/bucket elevator configurations, because of the reduced noise and the elimination of transfer points. FEECO's steep incline conveyors permit the transportation of bulk materials at inclines ranging from 18 degrees to 90 degrees, while still maintaining the feed and discharge properties of a standard belt conveyor (incline conveyors up to 18° are also available).
FEATURES
Reduced Material Degradation – Our "L" and "S" shape designs eliminate transfer points allowing for smooth, continuous conveying.
Reduced Spillage – Corrugated sidewalls contain the material reducing spillage.
Less Space Requirements – Steeper geometric options of the steep incline conveyor reduce the length requirements to reach the desired elevation when compared to conventional conveyors, eliminating wasted space.
Longer Belt Life – Belt abrasion is reduced by the restricted movement of material.
Custom Design – Our steep incline conveyors are specifically designed according to your requirements using the highest quality components available.
Flexible Belt Design – The steep incline conveyor uses a flexible corrugated sidewall belting which contains the material and permits loose material such as fertilizer, coal fines, chemicals, assembly parts, scrap materials, grain, sludge, and other bulk materials to be conveyed without spilling. A cleated belt is also available, which prevents fall back of material when conveying at angles up to 90 degrees.
Improved Material Transfer– Loading points on our steep incline conveyors remain clean with custom designed inlet hoppers which maximize loading capacity for straight incline, horizontal, "L" and "S" shape configurations. Turning wheel assemblies are incorporated to direct belting up the desired incline. Due to this unique, all-in-one design, transfer points are eliminated, preventing product degradation and spillage. Fully enclosed systems are available to protect material and reduce dust.
Drive Assembly: Head and tail sections come fully assembled with shop mounted pulleys and complete drive systems. Back stops can either be mounted internally to the reducer, or externally on the conveyor head shaft. Various drive assemblies are available, including direct coupled gear reducers, shaft mounted reducers (with or without v-belt drives), and chain driven from gear box to head shaft.

FEECO is capable of meeting the requirements necessary for CE marking equipment.

All FEECO equipment and process systems can be outfitted with the latest in automation controls from Rockwell Automation. The unique combination of proprietary Rockwell Automation controls and software, combined with our extensive experience in process design and enhancements with hundreds of materials provides an unparalleled experience for customers seeking innovative process solutions and equipment. Learn more >>
STEEP INCLINE CONVEYOR COMPONENTS AND PARTS
Click image to view larger. 3D Steep Incline Conveyor by FEECO International
A – Nose-over Section
B – Corrugated Sidewall Belting
C – Feed Chute
D – Return Bend Pulley
E – Upturn Deflection Wheels
F – Downturn Deflection Wheels
APPLICATIONS
Fertilizers
Wood Chips
Clinker
Aggregates
Petroleum Coke
Other Bulk Solids
RESOURCES
STEEP INCLINE CONVEYOR ARTICLES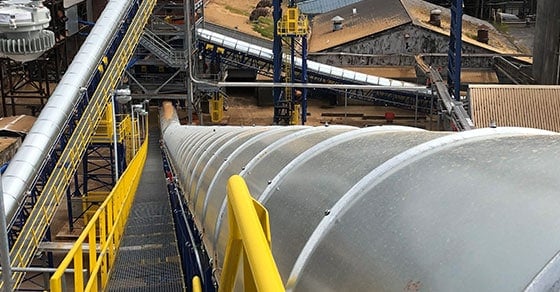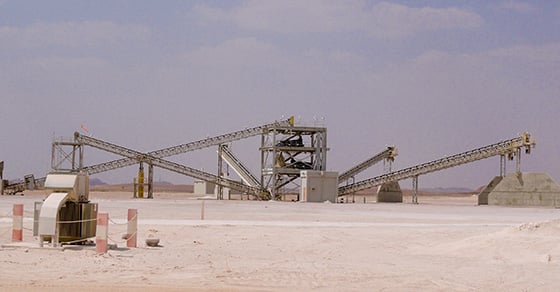 ---