REVERSING SHUTTLE CONVEYORS
Each and every FEECO conveyor system is created to meet the specific needs of the material to be handled, as well as the desired output. In some cases, a fixed belt conveyor that discharges material in the same location just isn't enough. In these situations, the best solution may be a custom designed reversing shuttle conveyor.
The reversing shuttle conveyor is used for building an in-line, continuous pile, or for feeding multiple fixed discharge points. Similar in form to a troughed belt conveyor, reversing shuttle conveyors are designed with traveling shuttle functionality. The shuttle functionality allows the conveyor to be moved along a track, as well as convey material in both directions, creating opportunity for extreme flexibility.
FEATURES
High quality, durable, and long lasting equipment has been a standard throughout FEECO's long history. The standards you can expect for a FEECO shuttle conveyor include:
Welded structural steel frame
High quality motors and gear reducers
Industrial trough idlers
High grade steel pulley shafts
ADDITIONAL FEATURES
Stationary Inlet
A stationary material feed chute allows for processed material to be directed to one central location. This reduces or eliminates the need for complex chute systems or diverters to get the product to the desired locations.
Reversible Belt Direction
The reversing terminology refers to added control of the belt's conveying direction. The ability to control this means that the reversing shuttle conveyor is not restricted to which end of the conveyor material can discharge from.
Remote/Automation
Reversing shuttle conveyors can either be controlled from a remote location, such as a control room, by trained personnel, or automatically, through an automated program. This greatly reduces the labor cost of sorting and storing materials.
Drive Components
Only heavy-duty, high-quality drive components are used for FEECO reversing shuttle conveyors. All of the moving components, from the trolley wheels to the drive motors, have been engineered to ensure continued functionality and reliability.
Troughed Idlers
Much like the drive components, only the highest quality CEMA idlers are selected for FEECO conveyor equipment. A commonly overlooked component, idlers can cause substantial belt wear and equipment downtime when not functioning properly. Making the investment for equipment designed and engineered with quality components will greatly reduce maintenance costs and downtime.
OPTIONAL COMPONENTS
At FEECO we design and build our equipment to suit our customer's needs. Like most of our equipment, reversing shuttle conveyors have several custom options that increase process efficiency. Some options include:
Belt cleaning system
Training Idlers
Belt alignment switch

FEECO is capable of meeting the requirements necessary for CE marking equipment.

All FEECO equipment and process systems can be outfitted with the latest in automation controls from Rockwell Automation. The unique combination of proprietary Rockwell Automation controls and software, combined with our extensive experience in process design and enhancements with hundreds of materials provides an unparalleled experience for customers seeking innovative process solutions and equipment. Learn more >>
BASIC FUNCTION
A reversing shuttle conveyor is, in short, a belt conveyor that is mounted on to a rail system. The conveyor has the ability to move along the rails in either direction and the belt can be switched for either direction, making this style conveyor great for evenly filling multiple hoppers or storage bins. The conveyor is typically half the length of the rails, giving it plenty of room for several discharge locations. Both functions, belt direction and shuttle movement, can be automated or controlled by an operator.
REVERSING SHUTTLE CONVEYOR COMPONENTS AND PARTS
The image below shows the standard components of a reversing shuttle conveyor. Click image to view larger.
Mechanical Construction of a Reversing Shuttle Conveyor (3D Reversing Shuttle Conveyor by FEECO International)
A – Reversing Belt Drive Motor
B – Conveyor Belt
C – Dust Hood Collection
D – Material Feed Hopper
E – Conveyor Pulley
F – Shuttle Drive Motor
G – Track Rollers
H – Trough Idler
I – Roller Bearing
J – Discharge Hopper
APPLICATIONS
FEECO provides innovative bulk material handling equipment and solutions for a variety of uses. Common reversing shuttle conveyor applications include
Coal Handling for Power Plants- Loading Bunkers
Woodchip and Bark Handling for Pulp/Paper Mills-Filling Digesters
Bulk Warehousing of Granular Products or Raw Materials
Filling Storage Silos Frac Sand Processing
And more…
RESOURCES
REVERSING SHUTTLE CONVEYOR ARTICLES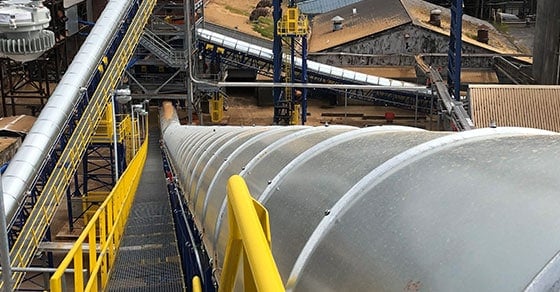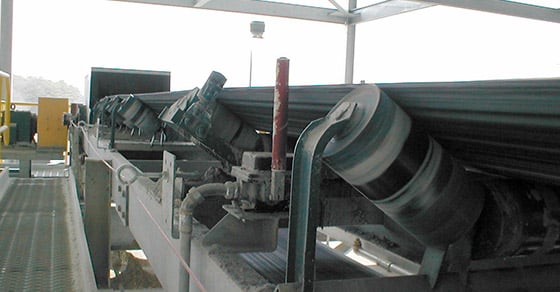 ---