AGGLOMERATION
Agglomeration, or particle size enlargement, is widely used throughout industries working with bulk solids to convert powders and dusts into more easily managed granules, as well as to control particle characteristics for transportation, handling, or performance.
Agglomeration is used to accomplish a number of different goals and encompasses many different techniques. As such, depending on the industry and the specific process employed, it may be referred to as any one of the following:
Pelletizing
Micro Pelletizing
Conditioning
De-dusting
Mixing
Granulation
Balling (iron ore pelletizing)
FEECO can provide a family of solutions to meet your agglomeration needs. Whether you are looking to eliminate dust, convert a waste to a marketable product, or improve product characteristics, we can design and manufacture agglomeration equipment to create a highly efficient process that produces the product you're looking for.
WHAT CAN AGGLOMERATION DO FOR YOUR MATERIAL?
Agglomeration offers a variety of benefits. Agglomeration can:
Reduce Volume
Stabilize Mixtures During Handling
Eliminate/Reduce Dust Problems
Control Hardness
Reduce Packing, Storage and Transport Costs
Improve Product Performance
Improve Handling
To learn more about how agglomeration can benefit your material, see Why Agglomerate Your Material.

FEECO is capable of meeting the requirements necessary for CE marking equipment.

All FEECO equipment and process systems can be outfitted with the latest in automation controls from Rockwell Automation. The unique combination of proprietary Rockwell Automation controls and software, combined with our extensive experience in process design and enhancements with hundreds of materials provides an unparalleled experience for customers seeking innovative process solutions and equipment. Learn more >>
NON-PRESSURE AGGLOMERATION (WET GRANULATION) EQUIPMENT
FEECO is the world's leading manufacturer of equipment and systems for non-pressure agglomeration, also known as wet granulation. FEECO agglomeration equipment includes:
Since moisture has to be present in the feed material and/or added during the agglomeration process, the resulting agglomerate is relatively soft (green, uncured) and usually requires a secondary process step to dry, cure, or fire the agglomerate and provide finished product strength. The product of non-pressure agglomeration is spherical or spheroidal pellets, depending upon the equipment used.
WHAT AGGLOMERATION EQUIPMENT IS RIGHT FOR YOU?
If you have a material problem, but you're not sure where to start, we've got you covered. We offer a unique material testing facility where we can determine the feasibility of agglomerating of your material, as well as which approach or equipment configuration will best suit the material, and what process parameters are necessary to achieve the desired end product characteristics.
SIZE REDUCTION EQUIPMENT
We also offer a line of size reduction equipment for breaking up oversize pellets for reintegration of the material into the process via a recycle circuit in continuous agglomeration processes. FEECO size reduction equipment includes:
RESOURCES
AGGLOMERATION ARTICLES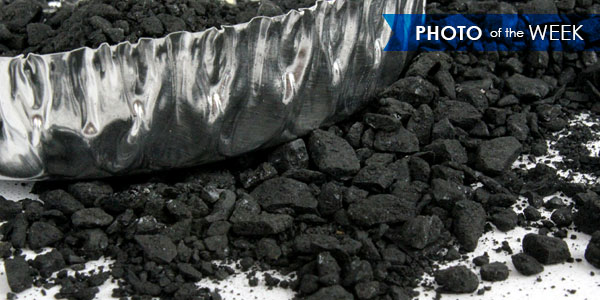 Our photo this week is a sample of coal fines. Coal is a reliable energy source used around the world, but …
---