CONTINUOUS PIN MIXERS
The pin mixer is a horizontal continuous mixer. Also known as a pin agglomerator, the pin mixer offers greater material densification than a disc pelletizer, and typically requires less binder. Whether you are conditioning a material, de-dusting, or micro-pelletizing it, our custom pin mixers are a preferred choice.
Pin mixers are an ideal continuous processing solution for ultra-fine materials, and mixing both solid and liquid feedstock components to create a homogenous mixture.
Material is fed into the pin mixer, while binder is continuously added at a specified rate. The high-speed spinning action created by the single rotor shaft affixed with rods (pins) thoroughly mixes the components and begins to form agglomerates as the material moves through the length of the mixer.
Pin Mixers are ideal as stand-alone pelletizing/agglomeration units, or as a method of pre-conditioning in a two-step agglomeration process involving a disc pelletizer or agglomeration drum.
FEATURES
Size: 10″ – 50″ (254 – 1,270mm)
Capacity: 200 lb/hr – 70 TPH
Full sweep pin design
Polished stainless steel liner to improve machine operation
Available custom configuration
Accurate feed ratios of powder to liquid for precise quality control
Accurate production rates
Custom designed control panel for housing controls
Optional Components

FEECO is capable of meeting the requirements necessary for CE marking equipment.

All FEECO equipment and process systems can be outfitted with the latest in automation controls from Rockwell Automation. The unique combination of proprietary Rockwell Automation controls and software, combined with our extensive experience in process design and enhancements with hundreds of materials provides an unparalleled experience for customers seeking innovative process solutions and equipment. Learn more >>
Zero Speed Switches
Raising Cover Assembly
Abrasion-Resistant Pin Coatings
Two Screw Feeders
Various Pin Arrangements
Variable Frequency Drive (VFD)
Heat Transfer Jacket
PIN MIXER COMPONENTS AND PARTS
The image below shows the standard components of a pin mixer. Click image to view larger.
Mechanical Construction of a Pin Mixer (3D Pin Mixer by FEECO International)

A – Spray Ports
B – Actuated Hinged Cover (Screw Jack)
C – Pin & Shaft Assembly
D – Discharge Chute
E – Abrasion Resistant Coating
F – Mixing Pins
G – Mixer Shaft
H – Jam/Locking Nut – High Grade
I – V-Belt Drive
J – Drive Motor
K – Integrated Screw Feeder
L – Material Inlet
APPLICATIONS & MATERIALS
Pin mixers are used in a variety of applications, including:
Coal Dust
Ceramics
Clay for cat litter
Compost
Fertilizers
Flyash
Gypsum
Humate
Inorganic Chemicals
Limestone
Organic Chemicals
Pigments
Proppants
Pulp & Paper Products
Minerals and Ores
Nickel Concentrates
Chicken Litter
Phosphates
Potash/Langbeinite
Poultry Manure
Sulfur
Synthetic Gypsum
WHAT CAN AGGLOMERATION DO FOR YOUR MATERIAL?
Agglomeration offers a variety of benefits. Among them, agglomeration allows you to:
Reduce Volume
Stabilize Mixtures During Handling
Eliminate/Reduce Dust Problems
Control Hardness
Reduce Packing, Storage and Transport Costs
Improve Product Performance
Improve Handling
To learn more about how agglomeration can benefit your material, see Why Agglomerate Your Material.
RESOURCES
PIN MIXER ARTICLES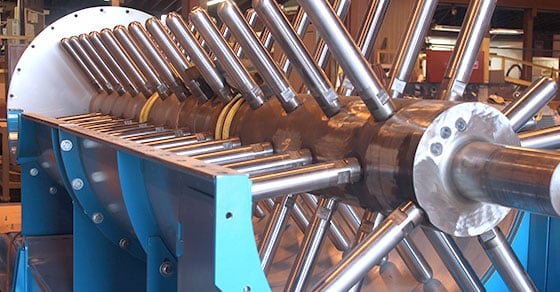 ---