FEECO HIGH SPEED MIXERS
FEECO high speed mixers are used in the production of phosphate based animal feeds. These vertical mixers are mounted on top of pug mills to provide a thorough reaction of the feed components and mixture of materials prior to further mixing and granulation in the pug mill.

FEECO is capable of meeting the requirements necessary for CE marking equipment.

All FEECO equipment and process systems can be outfitted with the latest in automation controls from Rockwell Automation. The unique combination of proprietary Rockwell Automation controls and software, combined with our extensive experience in process design and enhancements with hundreds of materials provides an unparalleled experience for customers seeking innovative process solutions and equipment. Learn more >>
HOW HIGH SPEED MIXER GRANULATION WORKS
The high speed mixer is composed of a vertical tube with a shaft running down the center. The shaft is affixed with several paddles that spin as the shaft rotates. The shaft spins at around 300-400 RPMs to create a homogenous mixture of the feed components. This allows for intimate mixing and a thorough reaction of the materials.
Once thoroughly mixed, material exits the high speed mixer, where it is fed by gravity into the pug mill. The reaction finishes, and granulation takes place in the pug mill. The granules are then dried in a rotary dryer.
The high speed mixer approach to animal feeds granulation is unique to FEECO, and produces a high quality, premium animal feed product. The thorough mixing provided by the high speed mixer improves the reaction, increases granule uniformity and overall crush strength, and also produces more on-size pellets than a traditional pug mill to dryer approach.
FEATURES
Heavy-duty design & Construction
Process and Mechanical Warranties
APPLICATIONS & MATERIALS
FEECO high speed mixers are used exclusively in the production of phosphate animal feeds, including:
Dicalcium Phosphate (DCP)
Monocalcium Phosphate (MCP)
Defluorinated Phosphate (DFP)
RESOURCES
HIGH SPEED MIXER ARTICLES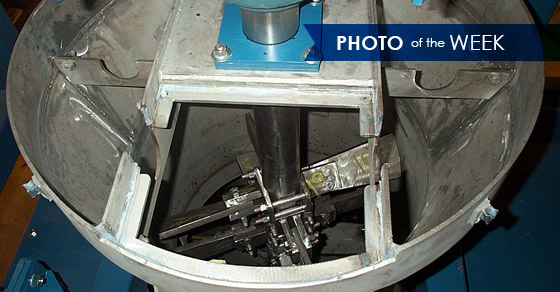 How do High-Speed Mixers Work?
High-speed mixers are used in animal feed granulation, a process specific to FEECO International. The mixers provide a better-quality reaction, and …
---