FEECO HAMMER MILLS
The FEECO double rotor hammer mill is a super heavy-duty mill adapted to do the toughest jobs with two sets of chain / bar links. Our hammer mills reduce dry and semi-moist materials with a minimum amount of fines and caking or plastering within the crusher. They are ideal for granulated and pelletized materials.
Hammer mills utilize a central rotating shaft, affixed with several "hammers" on pivots attached to the shaft. As the shaft spins, the hammers are swung via rotational energy, causing them to collide with the material, breaking it up into smaller particles.
The unit efficiently converts oversize agglomerates into the desired product range of minus 4 mesh to plus 20 mesh.

FEECO is capable of meeting the requirements necessary for CE marking equipment.

All FEECO equipment and process systems can be outfitted with the latest in automation controls from Rockwell Automation. The unique combination of proprietary Rockwell Automation controls and software, combined with our extensive experience in process design and enhancements with hundreds of materials provides an unparalleled experience for customers seeking innovative process solutions and equipment. Learn more >>
HAMMER MILL CONSTRUCTION
The image below shows the standard components of a hammer mill. Click image to view larger.
Mechanical Construction of a Hammer Mill (3D Hammer Mill by FEECO International)

A – Material Inlet
B – Heavy-Duty Casing/Housing
C – Drive Guard
D – Drive Motor
E – Structural Steel Mounting Base
F – Hardened Hammers
G – Heavy-Duty Chain
H – Link Shaft
I – Hammer & Chain Shaft Assembly
J – Removable Screen/Basket
K – Roller Bearing
FEATURES
Specifically Designed – For breaking oversize granular materials efficiently and at high rates of production.
Cracking Action – No grinding – Full stream of oversize is directed into rotating chains without pulverizing action.
Non-Clogging Design – Ample clearance throughout helps flow of material, helping to prevent build-up and production down time.
Easy Access – Quarter section of housing can be removed by taking out only eight bolts, providing easy accessibility.
Simplified Maintenance – All component parts can be easily removed and replaced.
Durable Construction – Heavy-duty steel housing, oversized bearings, and specially hardened chain hammers provide dependability.
APPLICATIONS
Hammer mills are ideal for breaking down oversize granular materials, as well as preparing material for use as feedstock. Common applications include:
Fertilizer Products
Pelletized Minerals & Ores (potash, gypsum, limestone, etc.)
Aggregates
RESOURCES
HAMMER MILL ARTICLES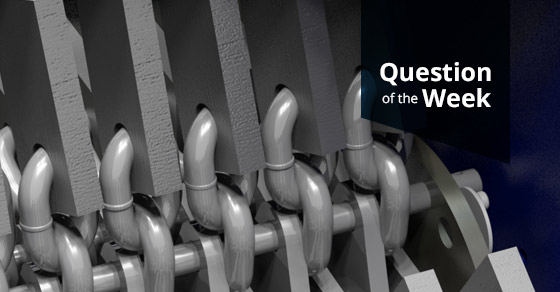 Hammer mills are a type of size reduction equipment, used to break down oversized granular materials. Breaking down oversize material helps …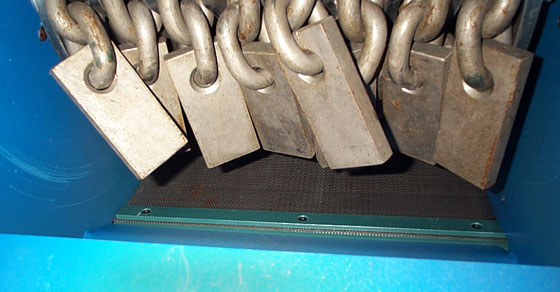 ---