Agglomeration
FEECO can provide a family of solutions to meet your agglomeration needs. Whether you are looking to eliminate dust, convert a waste to a marketable product, or improve product characteristics, we can design, manufacture, and install agglomeration equipment and systems to create a highly efficient process that produces the product you're looking for.
What Can Agglomeration do for Your Material?
Agglomeration, or particle size enlargement, offers a variety of benefits. Among them, agglomeration allows you to:
Reduce Volume
Stabilize Mixtures During Handling
Eliminate/Reduce Dust Problems
Control Hardness
Reduce Packing, Storage and Transport Costs
Improve Product Performance
Improve Handling
To learn more about how agglomeration can benefit your material, see Why Agglomerate Your Material.

All FEECO equipment and process systems can be outfitted with the latest in automation controls from Rockwell Automation. The unique combination of proprietary Rockwell Automation controls and software, combined with our extensive experience in process design and enhancements with hundreds of materials provides an unparalleled experience for customers seeking innovative process solutions and equipment.
Types of Agglomeration
FEECO is the world leading manufacturer of equipment for Non-Pressure (tumble growth)  agglomeration:
Tumble growth agglomeration is the agglomeration of fines without pressure, and typically in the presence of a binder. Since moisture has to be present in the feed material and/or added during the agglomeration process, the resulting agglomerate is relatively soft (green, uncured) and usually requires a secondary process step to dry, cure, or fire the agglomerate and provide finished product strength. The product of non-pressure agglomeration is spherical or spheroidal pellets, or "jagged" pellets, depending upon the equipment used. For tumble growth agglomeration equipment, we offer:
Disc Pelletizers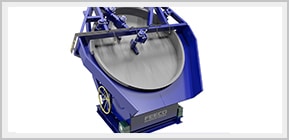 Pug Mills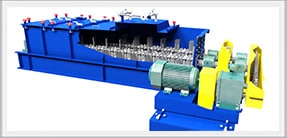 Drum Granulators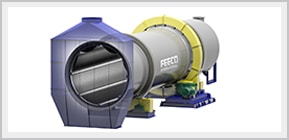 Pin Mixers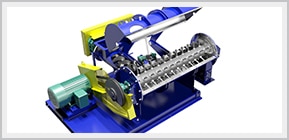 What Equipment is Right for You?
If you have a material problem, but you're not sure where to start, we've got you covered. We offer a unique lab testing facility where we can determine the feasibility of agglomerating of your material, as well as which approach will best suit your material, and what the process will look like to get the product characteristics you're looking for.
Size Reduction Equipment
We also offer a line of size reduction equipment for breaking up oversize pellets, including:
Click the images below to view our infographics on agglomeration

Benefits of Agglomeration
Types of Agglomeration
Agglomeration Equipment
Why Choose FEECO?
When it comes to agglomeration equipment and process solutions, FEECO is the provider of choice. FEECO has been solving material problems and providing high quality, custom agglomeration equipment and systems since 1951. We also offer a unique lab facility where we can work with you to determine agglomeration feasibility, as well as develop a process that helps you produce agglomerates with the precise characteristics you're looking for.
Our Commitment to Quality

Our company was founded on the idea that we could do things better; that if we put our minds to it, we could produce the best in industrial processing equipment.