With focus on efforts to achieve a low carbon economy continuing to grow, experts are predicting that such a shift could mean big changes for some minerals and metals.
One metal that is expected to be a cornerstone of a low-carbon future is copper. Known for its durability, efficiency, reliability and more, copper boasts a number of characteristics that make it a critical component in energy applications.
In their report, Copper's Contribution to a Low-Carbon Future – A Plan to Decarbonize Europe by 25 Percent, the European Copper Institute claims that with proper investment in the metal, copper could reduce the European Union's carbon emissions 25% (compared with 2011 levels) by the year 2050, with key areas of contribution including:
Motor Efficiency

Transformer Efficiency

Cable Efficiency

Solar Thermal Technologies

Electrification of Thermal Processes

Building Energy Management

Wind Powered Industrial Processes
Why Copper is Important in a Low-Carbon Economy
With the greatest thermal and electrical conductivity of any non-precious metal, copper is the backbone of the energy industry, widely used in cables and wiring, motors, conductors, transformers, and many other power-enabling products.
The use of copper in energy applications translates to higher efficiency and reliability, ultimately reducing greenhouse gas emissions; the European Copper Institute (ECI) states that the addition of just one kg of copper used to improve energy efficiency has an astounding environmental return of 100 to 1,000 times over the life of the equipment. As such, the move to a low-carbon future is expected to significantly increase copper's already essential role.
In addition to the increased efficiency and reliability that will make copper a key material in implementing low carbon technologies, renewable energy applications, regardless of type or size, require more copper per megawatt of new capacity (measured in lb/MW) compared to fossil-fuel or nuclear derived energy by a factor ranging between two and nearly six times.³
Click the image below to view the entire info graphic.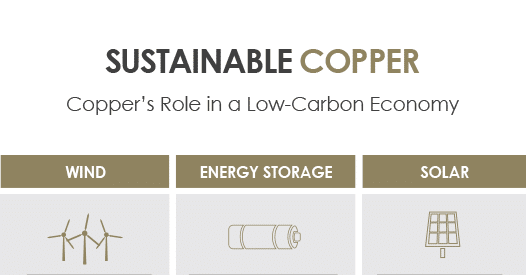 Low-Carbon Technologies & Copper
While the technologies that will prevail in a low-carbon economy can only be speculated, experts agree that solar power, wind power, and energy storage are likely to be at the forefront of renewable energy efforts. Each of these technologies relies heavily on copper.
Solar Power (Photovoltaic Systems)
Photovoltaic systems rely on copper in order to collect, store, and distribute solar energy. Compared to fossil fuel generated power, one study claims that the requirement for copper could be 11-40 times higher for photovoltaic (solar powered) systems.²
According to Solar Industry Magazine, a well-designed solar plant might use around 9,000 pounds of copper per megawatt of peak capacity.
Wind Power
Copper is also a critical component in wind turbines, where it can be found in a number of the components, from the various cables used, to the grounding systems that protect them from lightning strikes.
A study conducted by the Copper Development Association found the examined wind farms to require between 5,600 – 14,900 pounds of copper per megawatt, with offshore wind farms likely requiring much more.³  
Energy Storage
The storage of energy is quickly gaining recognition as an important means to reaching an energy grid that is both reliable and sustainable.
Energy storage covers a wide range of technologies, with many still under development, and still others expected to emerge. With such a vital role in the various components of energy production and storage, copper is expected to play a significant role in energy storage applications, though its role is likely to vary significantly across technologies.
A study commissioned by the Copper Development Association looked specifically at how the U.S. energy storage market will impact copper demand and found the potential for substantial increases in demand to be strong.
Electric Vehicles
Not surprisingly, copper is also a key component in electric vehicles, used in many of the parts, including batteries, windings, rotors, and more. Though not in the energy production category, electric vehicles are also expected to be a critical piece of the puzzle in a low-carbon future.
A recent study looked at how the surge in electric vehicles will impact the demand for copper. According to the research, the 27 million electric vehicles estimated to be on the road by the year 2027 will raise copper demand in this sector to 1.74 million tonnes, up from 185,000 tonnes in 2017.4
Meeting Increased Demand for Copper
With demand for copper likely to surge and output from existing resources weakening, many are wondering how the demand to feed a decarbonized future will be met.
Expanding Copper Resources
While much of the world's copper resources have been exploited, miners are looking at Ecuador as a possible new hotspot. Ecuador has remained largely untapped in terms of mining its resources, but renewed interest has miners scrambling to the area to cash in on sources of high-grade copper and gold.
In a recent discussion with Bloomberg Markets, Rodrigo Izurieta, president of Ecuador's Mining Chamber, commented that "Ecuador is one of the world's last mining frontiers, but it is under-explored and under-developed. There is a great window of opportunity."
Mining magnate BHP recently opened in office in Ecuador to facilitate exploration efforts in the area. They are among Hancock Prospecting Pty, Fortescue Metals Ltd., and Newcrest Mining Ltd.
Improving Copper Extraction
Maximizing copper production will also likely be critical to meeting the needs of a low-carbon future. While smelting is still a primary method of copper ore beneficiation, advancements in solvent extraction – electrowinning, or SX-EW has opened up opportunities for previously uneconomic ore bodies to be efficiently processed.
The SX-EW process has proven to be successful with oxide and low-grade sulfide ores, which cannot be economically processed via smelting. As of late, the SX-EW technology has become a staple in the copper industry, and has been implemented on a widespread scale.
With decreasing ore grades, combined with an insatiable appetite for copper to meet renewable energy goals, the SX-EW process is likely to only grow in importance.  
Conclusion
While copper is already an integral part of today's energy system, the transition to a low-carbon future looks set to require significantly more copper, with anticipated renewable technologies requiring substantially more than traditional approaches. Copper's role in a low-carbon economy cannot be understated.
FEECO provides custom, heavy-duty copper processing equipment for both smelting and SX-EW/heap leaching operations. Our agglomeration drums, pugmill mixers, and bulk material handling equipment are relied upon by many of the world's top mining companies. For more information on our copper processing capabilities, contact us today!
SOURCES
The Growing Role of Minerals and Metals for a Low Carbon Future

. The World Bank Group, Washington, DC, 2017,

The Growing Role of Minerals and Metals for a Low Carbon Future

.

Hertwich, Edgar G., et al. "Integrated life-Cycle assessment of electricity-Supply scenarios confirms global environmental benefit of low-Carbon technologies."

Proceedings of the National Academy of Science of the United States

, vol. 112, no. 20, 19 May 2015, pp. 6277–6282., www.pnas.org/content/112/20/6277.full.pdf.

BBF and Associates, and Konrad J.A. Kundig. "MARKET STUDY: CURRENT AND PROJECTED WIND AND SOLAR RENEWABLE ELECTRIC GENERATING CAPACITY AND RESULTING COPPER DEMAND." Submitted to the Copper Development Association Inc., Sustainable Electrical Energy Program, 20 July 2011.

https://www.copper.org/environment/sustainable-energy/renewables/education/Projected-wind-solar-copper-demand.pdf

"The Electric Vehicle Market and Copper Demand." International Copper Association Copper Alliance, Research by IDTechEx. June 2017.