When designing a thermal processing operation, confusion often results on whether a direct-fired or indirect-fired kiln is the better option. And while there can be some overlap in applications, in general, each type of kiln is better suited for different processes. Below is a brief overview on these two types of kilns.
Direct-fired Kilns
Direct-fired rotary kilns rely on direct contact between the process gas and the material in order to heat the material to the specified temperature. Direct-fired kilns can be either of the co-current design, or counter current design, referring to the direction that the process gas flows through the drum in relation to the material.
3D model of a FEECO direct-fired kiln
Direct-fired rotary kilns are most often the equipment of choice in thermal processing, because they are more efficient than their indirect counterparts. There can be disadvantages to a direct-fired kiln, however. For example, because a process gas is used to treat the material, direct-fired kilns subsequently produce more off-gases that will require treatment.
Additionally, some materials must be processed in an inert environment, so as not to be exposed to oxygen or nitrogen. In applications such as this, a direct-fired kiln would not be an option. Materials that are commonly processed in a direct-fired kiln include:
Proppants
Minerals
Specialty Ceramics and Clays
Limestone
Cement
Iron Ore
Indirect-fired Kilns
Conversely, indirect-fired kilns, sometimes called calciners, can process material in an inert environment, where the material never comes into contact with the process gas. Here, the kiln is heated from the outside, using a heat shroud, and the material is heated via contact with the hot kiln shell. While this method is significantly less efficient than a direct-fired kiln, it is necessary in some processes that require a more tightly controlled environment. This might include instances where an undesirable oxide compound will form in the presence of oxygen at high temperatures. Similarly, some materials may form an undesirable compound with nitrogen at high temperatures. In situations such as these, the use of an indirect-fired kiln provides the necessary inert environment for effective processing.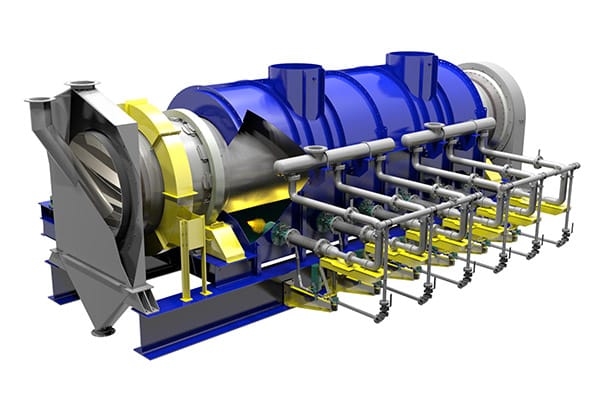 3D model of a FEECO indirect-fired kiln
Indirect kilns also allow for precise temperature control along the length of the kiln. This is advantageous in settings where a material will need to be brought up to temperature, and then held there for a specific amount of time as it moves through the kiln.
Indirect-fired rotary kilns can also be beneficial when the material to be processed consists of finely divided solids. In a direct-fired rotary kiln, the heat source is hot gas (products of combustion and air), which flows with an inherent velocity. These gases can carry particles through form drag. The degree of entrainment depends on a variety of factors, such as gas velocity, gas density, particle density, and shape. Due to entrainment potential, direct-fired rotary kilns processing fine materials require the design to be centered on permissible gas velocities as opposed to heat transfer requirements. Examples of materials commonly processed in an indirect-fired kiln include filter cakes, carbon black, chemical precipitates, and other finely ground solids.
Because the heat is being transferred through the shell, an indirect rotary kiln is not lined, in order to maximize the heat transfer through the shell. Therefore, an indirect rotary kiln is usually made out of a more temperature-resistant alloy, instead of carbon steel.
Conclusion
While direct-fired kilns offer maximum efficiency, they are not always appropriate for the intended process. In settings such as these, an indirect-fired kiln would offer the best processing solution. In some process situations, a combination of a direct and indirect rotary kiln is required; the direct-fired rotary kiln is used to burn off the organic fraction of the material being processed, and further polishing of the resultant ash material is conducted in a specialty indirect kiln.
FEECO is a leading provider of both direct- and indirect-fired rotary kilns. Our rotary kilns are engineered around the material to be processed in order to produce the optimal thermal processing environment for the objective. For more information on our custom rotary kilns, contact us today!