The Fraser Institute has released data from their annual survey ranking the most (and least) attractive mining jurisdictions for 2020. 
The survey assessed 77 jurisdictions against an overall Investment Attractiveness Index, which combines a variety of criteria to determine how factors such as policy, taxation, infrastructure, and more, affect investment attitudes for a given region. This year's survey saw a shakeup, with several jurisdictions moving up or down the list. 
The data comes at a time of resurgence for the mining industry, when demand for metals needed for electric vehicle batteries and other low-carbon technologies are expected to reach all-time highs.
FEECO has seen the change in activity first hand, with an uptick in material handling equipment for mines, feasibility testing and process development services, and parts and service inquiries, as miners look to add capacity and build new facilities. 
The Rankings
Nevada, which was ranked the third most attractive in 2019, took first place, while Arizona, previously in ninth place, moved up to second. Following Arizona were Saskatchewan, Western Australia, Alaska, Quebec, South Australia, Newfoundland and Labrador, Idaho, and in tenth place, Finland.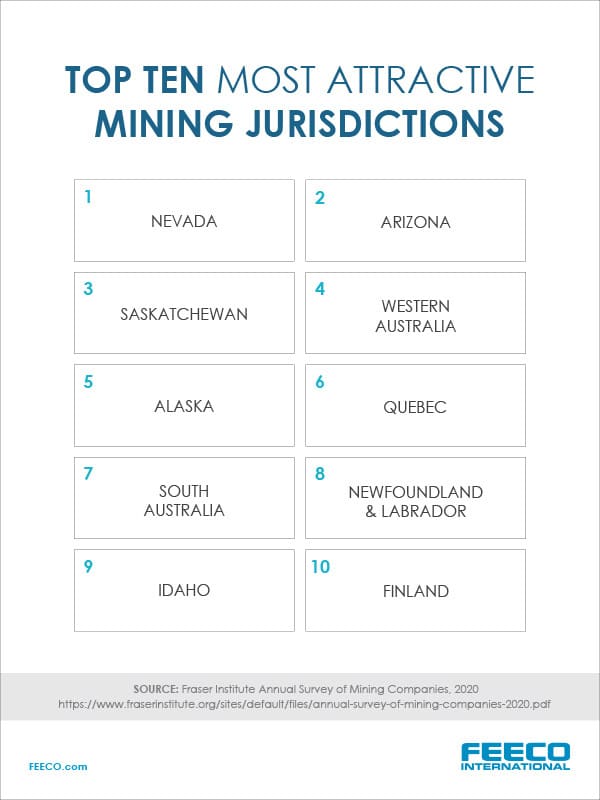 At the bottom of the list, in descending order, were Michigan, Spain, Zimbabwe, Mendoza, Bolivia, La Rioja, Indonesia, Tanzania, Chubut, and in last place, Venezuela.
---
In addition to material handling equipment, process development services and aftermarket support, FEECO is a preferred provider of mineral processing equipment. For more information on our custom equipment, or our range of process development and service support, contact us today!