The challenges presented by the handling of material fines is an issue faced across many industries. Whether working with fertilizers, ores, or coal, materials which are difficult to handle, or dusty, can benefit greatly from agglomeration. Because there are many processes by which a material can be agglomerated, people are often overwhelmed at where to start with their material. This article will focus on the differences between compaction granules, briquettes, and pellets.
Both compaction granules and briquettes are made with what is called a roll press. Compaction granules are made from loose material that has been compacted together, and then broken apart. Granules produced in this fashion are produced in a roll compactor. This device feeds the powder between two counter-rotating rolls. The rolls use a controlled force to press the powder material into a thick "sheet." This sheet is then fed from the roll press into a granulator. The granulator is a device that breaks the material down into granules by fracturing it. Compaction granules can most commonly be seen as potash, ammonium sulphates, and other NPK fertilizers.
Briquettes are a loose material that has been compacted into a dense mass. Some of the most commonly used briquettes include salt briquettes used in water softeners, and charcoal briquettes used for grilling. Briquettes are formed on what is called a briquetting machine. A briquetting machine is a roll press with specially designed rolls that form the briquettes by forcing the material into pockets on the rolls. Each roll has one half of the briquette pocket, and as the rolls rotate toward each other, the halves come together, material is forced into both sides, and a whole briquette is produced. Briquettes are not typically made when the end product must be small. Because small briquettes are difficult to make and have a low volume, the smaller the briquette, the higher the price of equipment. Typically, briquettes are produced no smaller than roughly a ½" square by ¼" thickness.
Though they may require more upfront cost, roll compacting and briquetting machines are often a cost-effective solution for agglomerating fines, because they are, in the majority of cases, a relatively dry process. The extreme force used to meld the material to itself is often enough to hold the material together, meaning no binder (or minimal binder) is necessary. Not only does this reduce the cost of a binder, but additionally, production costs are reduced because no equipment or energy is needed to drive off remaining moisture from the granules or briquettes. However, not all materials have the characteristics that allow them to be agglomerated by pressure, and in this case, pelletizing by tumble growth is often a valuable solution.
Pellets are created by tumble growth agglomeration. Round pellets are typically less dusty than those generated in a roll compaction process. Round pellets can be made in a rotary drum agglomerator, disc pelletizer, or pan pelletizer. Similar to making a snowball, as the disc rotates, material rolls against itself, and with the help of a liquid and/or binder, eventually snowballs into the desired size pellet. The process of tumble-growth agglomeration is a more operator dependent process than that of pressure agglomeration. The right binder must be found, and because a binder (moisture) is used, the material must be dried before it is ready for packaging or transportation.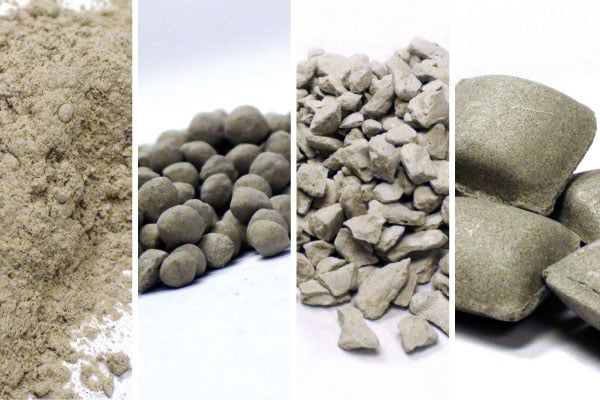 This image shows a clay based material in the form of raw material, pellets, compaction granules, and briquettes (left to right).
Though the choice between round pellets, briquettes, or roll compaction granules can be dependent on the type of material and its end use, typically the choice is one of practicality and cost.
FEECO has been a leader in agglomeration equipment and process solutions for over 65 years, offering agglomeration feasibility tests, custom equipment design, process development and aftermarket services.
Not sure where to start?
FEECO offers agglomeration feasibility testing to determine the most suitable solution. Contact us today with your material fines problem!