PELLETIZING
---
What is Pelletizing?
Pelletizing is a particle size enlargement (agglomeration) technique frequently used to transform the handling and performance characteristics of bulk solids. Pelletizing can be used to eliminate dust, control active ingredient release properties, improve application, and more.
Note: While the term "pelletizing" is frequently used to describe all manner of agglomeration techniques, in this case it is used to describe pellets/granules that were made using tumble-growth/agitation agglomeration (wet granulation) only, and does not include those produced via extrusion or compaction.  
Commonly Pelletized Materials
Pelletizing can benefit any material that presents handling and application or performance challenges as a result of non-uniform particle size distribution or dust generation. Pelletizer plants are commonly built to process:
Chemicals
Minerals (gypsum, limestone, etc.)
Soil Amendments
Fertilizers
Industrial by-products (fly ash, FGD gypsum, etc.)
Ores
Limestone before and after pelletizing
The Pelletizing Process
The pelletizing process can vary significantly depending on the unique process and material goals. A common pelletizer plant setup involves the use of a pin mixer to precondition material and form seed pellets, which are then fed to a disc pelletizer for growth and refinement, followed by a dryer for reducing the moisture content of the final product. This is illustrated in the process flow diagram below.
Typical pelletizing process flow diagram (Click to view larger)
Custom Pelletizing Equipment
Equipment commonly used in the pelletizing process includes:
Disc Pelletizers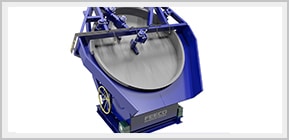 Pug Mills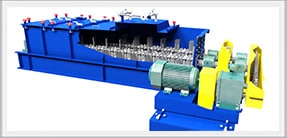 Drum Granulators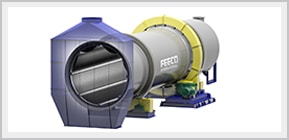 Pin Mixers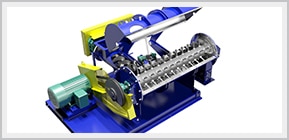 All FEECO equipment is engineered and manufactured around the unique characteristics of the material to be processed.
Services
As the global leader in tumble-growth agglomeration, FEECO is able to offer comprehensive support for every aspect of the pelletizing process, from concept to pelletizer plant optimization. Services include:
Batch/Feasibility and Pilot-Scale Testing
The FEECO Innovation Center is a unique testing facility where we can test your material at both batch and pilot scale in order to work out process variables and design commercial-scale units, as well as scale up the process.
The FEECO Innovation Center can test on a single piece of equipment, or a continuous process loop, and can determine the process parameters necessary to meet exacting particle specifications.
We offer comprehensive testing services in four categories:
Feasibility/Proof of Concept: An initial, non-witnessed batch testing phase in which the possibility of creating a product is explored.
Proof of Product: A more in-depth batch testing phase in which more time is spent determining whether a product can be made to desired specifications.
Proof of Process: A continuous testing phase that aims to establish the equipment setup and parameters required for continuous production of your specific material.
Process/Product Optimization: An in-depth study to optimize your specific material's characteristics and/or production parameters in an industrial setting.
Learn more about the Innovation Center >>
Process Training
Our extensive experience in processing hundreds of materials and derivatives leaves us unmatched in industry knowledge. Our Process Engineers travel the world to train our customers on their unique pelletizing production line.
Aftermarket Support
The FEECO Customer Service Team provides comprehensive services to keep your equipment and process running reliably and efficiently. This includes:
Process optimization
Audits and inspections
Spare parts
Maintenance procedures