A belt conveyor can come in many shapes and sizes and have an almost unlimited amount of interchangeable components, not to mention the number of add-ons available. Selecting the belt conveyor that best fits the processing system at hand can be overwhelming. The reason for this is that conveyors are extremely versatile; they can be modified and customized to suit a vast array of specific requirements. The objective is to select the most advantageous design for your system.
Belt conveyors are classified by how they function. Because of this, it is helpful to take a look at the general belt conveyor styles before selecting options and add-ons. FEECO offers custom solutions to niche markets that require large, robust and long-lasting conveyors.
The belt conveyor styles that FEECO offers are:
The Troughed Belt Conveyor
The most popular and the most versatile conveyor available. Comprised of predetermined conveyor belting riding on heavyd-uty troughed rollers, each securely mounted to a structural steel frame. FEECO's design is scalable to span almost any distance and has several add-on options. Because the belt rides on troughed rollers, the material is tracked towards the center of the belt, which prevents the material from spilling off the conveyor. Depending on the size of the conveyor required, a heavy-duty motor and gear reducer are selected, along with the proper belt tension system. Belt conveyors can be set to run horizontal, or at a slight angle (some material may require special belting to run at certain angles). The belt conveyor itself has the ability to work with almost any material. However, there are several different belting options, each designed for different material characteristics. FEECO specializes in large, heavy-duty belt conveyors that are engineered for long-lasting performance. Troughed belt conveyors can be designed with either a structural steel channel frame, or fabricated truss frames. Furthermore, FEECO can integrate platforms and walkways for maintenance and general observation of larger conveyors.
The Steep Incline Belt Conveyor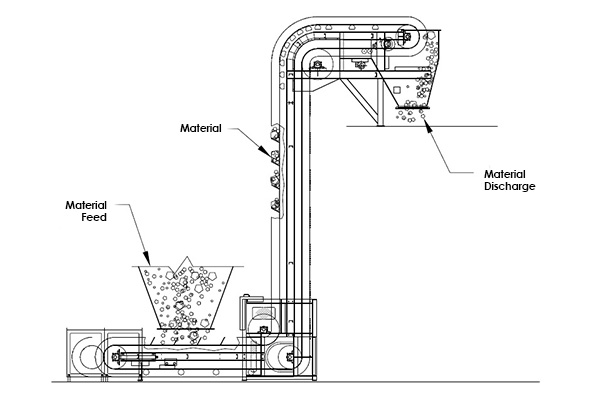 Designed to move material vertically while still maintaining feed and discharge properties as a standard belt conveyor. This is accomplished with multiple pulleys and rollers designed to redirect the conveyor vertically. The vertical change in direction then spans the elevation required while at the same time, minimizing the equipment's footprint, which makes it a great solution where space is limited. A steep incline conveyor can be designed to operate at multiple angles from 18 degrees, up to 90 degrees. Belting options have a cleat, which contains the material as it moves vertically, resulting in reduced material fallback.
The Reversing Shuttle Belt Conveyor

A reversing shuttle conveyor is, in short, a belt conveyor that is mounted on to a rail system. The conveyor has the ability to move along the rails in either direction and the belt rotation can be switched for either direction, making this style conveyor great for evenly filling multiple hoppers or storage bins. The conveyor is typically around half the length of the rails, giving it plenty of room for several discharge locations. Both functions (belt rotation and shuttle movement) can be automated or controlled by an operator.
Each belt conveyor system manufactured at FEECO is made to exact customer specifications. Because of this, we can design each conveyor with a variety of additional components, some custom and some standard. The goal is to supply our customers with a quality conveyor that integrates well with the rest of their material processing applications. Add-on equipment allows FEECO to do just that.
Belt Conveyor Add-Ons
The standard add-ons that FEECO offers are:
Belt Trippers
Belt Plows
Belt Feeders
Conveyor Covers
Belt Trippers
Designed for material discharge control, this option re-routes the belting to discharge material at any point along the conveyor. Belt trippers can be mounted stationary, or set to move locations automatically or manually to release material on one side or both sides of the conveyor.
Belt Plows
A simplified mechanism for diverting the discharge location on a belt conveyor. Belt plows are a more economical alternative to the belt tripper. However, they are not as versatile and are generally used when only a limited amount of discharge locations are required; also allows material to release from one side or both sides of the conveyor.
Belt Feeders
A hopper and belt system that allows bulk material be loaded into the belt feeder without any proportion control. The belt feeder then limits the amount a material released onto to the belt conveyor resulting in a consistent material feed rate. This makes it possible to add bulk material into the hopper without causing any quantity fluctuation in the process system.
Conveyor Covers
The purpose is to eliminate rain, snow, ice, or direct sunlight exposure from coming into direct contact with the material or the equipment and, in certain scenarios, may also aid in dust control. FEECO covers are designed to be long-lasting and durable, while still allowing for easy access for observation and general equipment maintenance.
Understanding which conveyor design best associates with your process system is step one in the multi-step procedure of conveyor selection. The mechanical principles of each conveyor and add-on equipment should point you in the right direction. The next steps will be selecting the correct belting, length, and width along with some other options that correlate with the selected conveyor design and the material being handled. At FEECO, we believe in creating innovative and high quality equipment that our customers can rely on for years.
For more information, contact us today.