Pelletizer Plant
As the world's foremost expert in tumble-growth (agitation) agglomeration (also known as wet granulation), FEECO designs, builds, and services the industry's most advanced pelletizer plants.
A FEECO pelletizer plant can transform dusty, difficult-to-handle materials into everything from rough agglomerates, to a premium granular product, whether the goal is to simplify transportation and disposal, improve a production process, or bring a new product to market.
Applications
Due to the many benefits the process can offer, pelletizing continues to expand into a growing number of markets and applications. Typical pelletizer plant applications include:
Iron ore (in this case the process is typically referred to as balling)
Fertilizers & soil amendments (gypsum, limestone, etc.)
Industrial by-products (fly ash, EAF dust, etc.)
Minerals and ores (bauxite, clay, glass, etc.)
Chemical products (pigments, dyestuff, etc.)
Pelletizer Plant Equipment
While pelletizer plants often refer specifically to disc pelletizer setups, various types of equipment and combinations thereof can be used to carry out the pelletizing process.
Agglomeration Equipment
Agglomeration equipment commonly used to carry out the pelletizing process includes the following. Equipment may be used as a stand-alone pelletizing device, or in combination.
Disc Pelletizers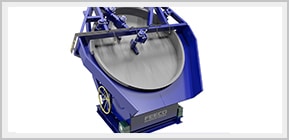 Pug Mills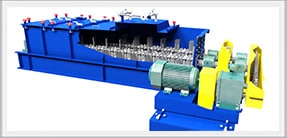 Drum Granulators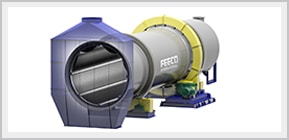 Pin Mixers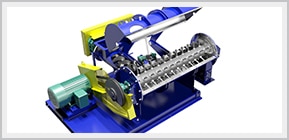 Rotary Drum Dryers & Coolers
As a wet process, pelletizing typically requires a drying step. This is frequently carried out in a rotary dryer, a high-capacity dryer that utilizes a cascading motion to dry pellets, while also rounding and polishing them as they tumble through the drum. In some cases, a rotary cooler may follow the dryer to cool material prior to packaging or storage.
Bulk Material Handling Equipment
Various types of bulk material handling equipment ensure the seamless flow of material throughout the pelletizer plant. This includes troughed belt conveyors, trippers and plows, and belt feeders, as well as bucket elevators.
All FEECO equipment is custom engineered around the specific characteristics of the material to be processed, as well as the process goals in order to yield an optimal production solution.
In addition to the primary equipment, FEECO also offers a range of support equipment to build a complete pelletizer plant, including hoppers, feeders, exhaust gas handling, and more.
Pelletizer Plant Support Services
FEECO offers comprehensive support for pelletizer plants in every stage of the process; from carrying out testing and process development, to building the equipment, optimizing the process, and continuing to service it throughout its lifecycle, FEECO has everything necessary to build and maintain the world's best pelletizer plants.
Batch & Pilot-Scale Testing
The FEECO Innovation Center offers extensive possibilities for testing material pelletizing at both batch and pilot scale using various types of equipment, from a single piece of equipment, to a continuous process loop integrating a complete process flow.
We offer comprehensive testing services in four categories:
Feasibility/Proof of Concept: An initial, non-witnessed batch testing phase in which the possibility of creating a product is explored.
Proof of Product: A more in-depth batch testing phase in which more time is spent determining whether a product can be made to desired specifications.
Proof of Process: A continuous testing phase that aims to establish the equipment setup and parameters required for continuous production of your specific material.
Process/Product Optimization: An in-depth study to optimize your specific material's characteristics and/or production parameters in an industrial setting.
Learn more about the Innovation Center >>
Training
A pelletizer plant is only as good as its operators; operators and maintenance personnel must be trained in order to consistently produce on-size, quality product. FEECO offers on-site training programs to educate pelletizer plant operators on how their specific process functions, how to troubleshoot issues, and how to maximize quality product output.
Aftermarket Support
The FEECO Customer Service Team is only a call away, ready to provide troubleshooting assistance, audits and inspections, maintenance procedures, and more.