DUST SUPPRESSION
---
What is Dust Suppression?
Dust suppression, sometimes also called de-dusting, is a means of converting a dusty material into one that is nearly dust-free. Dust suppression is widely used in the handling and processing of bulk solids, as it provides a diverse range of benefits, many of which directly impact the bottom line:
Product loss prevention
Combustion prevention
Avoidance of respiratory hazards
Promotion of a safe, clean working environment
Improved handling and feeding qualities
Improved transportation and storage qualities
Reduced or mitigated risk of windblown material liabilities
Materials that Commonly Require Dust Suppression
Any material in the form of a powder or fines that presents dust issues will benefit from dust suppression. Bulk solids that are commonly treated in an effort to suppress dust include:
Chemicals
Minerals (gypsum, limestone, etc.)
Soil Amendments
Fertilizers
Industrial by-products (fly ash, FGD gypsum, etc.)
Ores
Dust collector fines
De-dusted paint pigment produced in a FEECO Pin Mixer
The Dust Suppression Process
Dust suppression can be carried out in several ways. In most cases, the most effective method involves an industrial mixer such as a pin mixer or pugmill mixer. Depending on how the process is carried out, it may also be referred to as dust wetting, conditioning, pelletizing, or micro pelletizing.
Dust suppression with a mixer involves combining the dusty material with a liquid binder; the powdered material and liquid binder are thoroughly mixed into a homogeneous mixture, effectively de-dusting the material. If desired, the mixture can be processed at a longer retention time to cause agglomeration/pelletizing, and in the case of the pin mixer, densification.
In some cases where disposal is the goal, dusty industrial byproducts may be mixed with another waste or industrial byproduct in the form of a slurry. By combining the two, the disposal challenges associated with each are eliminated.
Custom Dust Suppression Equipment
FEECO offers custom pin mixers and pugmill mixers for dust suppression applications.
Pug Mills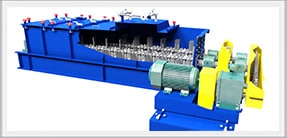 Pin Mixers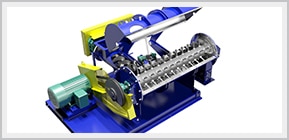 Services
As the global leader in tumble growth agglomeration, FEECO is able to offer comprehensive support for every aspect of the dust suppression process, from concept to optimization. Services include:
Batch/Feasibility and Pilot-Scale Testing
The FEECO Innovation Center is a unique testing facility where we can test your material at both batch and pilot scale in order to work out process variables and design commercial-scale units, as well as scale up the process.
The FEECO Innovation Center can test on a single piece of equipment, or a continuous process loop, and can determine the process parameters necessary to meet exacting particle specifications.
We offer comprehensive testing services in four categories:
Feasibility/Proof of Concept: An initial, non-witnessed batch testing phase in which the possibility of creating a product is explored.
Proof of Product: A more in-depth batch testing phase in which more time is spent determining whether a product can be made to desired specifications.
Proof of Process: A continuous testing phase that aims to establish the equipment setup and parameters required for continuous production of your specific material.
Process/Product Optimization: An in-depth study to optimize your specific material's characteristics and/or production parameters in an industrial setting.
Learn more about the Innovation Center >>
Process Training
Our extensive experience in processing hundreds of materials and derivatives leaves us unmatched in industry knowledge. Our Process Engineers travel the world to train our customers on their unique dust suppression process.
Aftermarket Support
The FEECO Aftermarket Engineering Team provides comprehensive services to keep your equipment and process running reliably and efficiently. This includes:
Process optimization
Audits and inspections
Spare parts
Maintenance procedures