At FEECO, we continually strive to create a blog rich in content, that is, rich with the information our readers need most. This year was no exception; we've produced more in-depth content, more often, and have made such content more easily accessible.
Here are some advancements the FEECO blog saw in 2015:
Author Pages
To become more familiar with the faces of FEECO, we've added author photos and biographies to each published blog. Here, you'll meet our Process Sales Engineers, Process Technicians and Service Engineers- all whom we refer to as the FEECO Experts. We invite you to get to know our team, and how they can help you.
New Content Alerts
While the blog is home to much of our content, we also added resources to many other pages on the website. Thus, new content alerts were published on the blog to inform our readers of the latest information available elsewhere on FEECO.com.
3D Images
Our in-house design team has produced 3D images to give our customers a more thorough understanding of the equipment they are interested in, as well as the quality craftsmanship that goes into FEECO's work. Many of the images are incorporated in the blog posts, but can also be seen on their designated equipment pages: rotary drum dryers, rotary kilns, rotary calciners, disc pelletizers, pin mixers, paddle mixers/pugmill mixers, bucket elevators, shuttle conveyors, hammer mills.
A disc pelletizer, one of our many 3D images, is shown below.
E-Books
An Agglomeration E-book was created to give our readers a one-stop shop on the subject. This comprehensive resource focuses on tumble growth and pressure agglomeration techniques, and also examines methods, processing considerations, and equipment for both types. To download a free copy, click here.
Furthermore, the second edition of our Rotary Dryer E-book was released with supplementary, in-depth details, quality diagrams, and more. Stay tuned for updated e-books as we head into the New Year.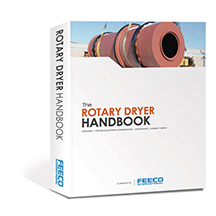 Question of the Week
FEECO is proud to say we've expanded our content with the addition of a Question of the Week. Each Wednesday, we publish a commonly asked question and answer on the blog to help our readers better understand FEECO's equipment and services. A broad range of topics have been covered, including equipment operation, material testing, service and maintenance.
A Question of the Week will continue to be published in 2016. In the meantime, take a look at this past year's top questions:
Why are rotary dryers the equipment of choice in frac sand drying?
What's the difference between a rotary dryer and a rotary kiln?
Why are flights used in a rotary dryer?
How does a compactor work?
Weekly Blog Emails
We added a weekly email sent to subscribers each Thursday that highlights the four most recent posts from our blog. To start receiving these emails, simply visit our blog page and sign up today.
Process Industry News
FEECO serves a wide range of industries, from agriculture and mining, to power and chemical processing. In an effort to keep you up-to-date on the latest news from these areas, we've created a monthly 'Process Industry News' post. Here, we'll share new technologies, research, and more from the various industries we serve.
A sample of our most recent posts can be viewed here:
Process Industry Roundup: November 26, 2015
Process Industry Roundup: October 29, 2015
Process Industry Roundup: October 22, 2015
In-Depth Blog Posts
As in years past, we've continued adding more in-depth posts to the blog each week. Some of this year's highlights include:
Agglomeration
Pelletization Vs. Compaction Granulation
Agglomerating Materials for Landfill
A Look at Micro-Pelletizing
Thermal Processing
Co-current Vs. Counter Current Drying
The Anatomy of a Rotary Dryer
Kiln Feasibility Testing
Fertilizer Systems
Benefits of the Granulation Drum in Granular Fertilizer Production
Process Design: Enhanced Soil Structure with Blended Fertilizers
Opportunities for Improved Disposal of Biosolids
Material Handling
Bucket Elevator Design: Centrifugal Vs. Continuous
Bucket Style Selection
Belt Trippers Vs. Plows
As 2015 draws to a close, we'd like to thank you for your loyal readership and steady support. If you want to see any particular topics covered this next year, please send us a note, and we'd be happy to incorporate it into the blog. Until then, warmest wishes for a very Happy New Year, from your friends at FEECO.